BETA and Pony Club team up on equipment safety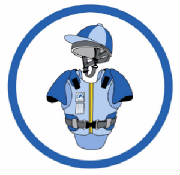 Young riders will learn more about the safety of riding hats, body protectors and saddlery by taking a new Pony Club achievement badge developed in conjunction with the British Equestrian Trade Association (BETA).
The Equipment Safety badge was launched at the Pony Club Annual Instructor Conferences (22/29 April) where BETA's Tricia Nassau-Williams and Norma Smithson explained the benefits of educating young riders about choosing and using safety equipment and regularly checking their tack.
BETA, the body that represents the UK's leading equestrian manufacturers, distributors and retailers, drew up the syllabus and will continue to work closely with the Pony Club as the badge becomes available across its branches.
"The Equipment Safety badge represents a team effort between BETA and the Pony Club to help raise young riders' awareness of important safety issues," said Claire Williams, executive director of BETA. The badge also compliments BETA's training of tack shop staff to fit riders' hats and body protectors and to offer reliable advice about saddlery. Riders of all ages can tap into that knowledge when they shop with a BETA-trained retailer."
Pony Club members taking the Equipment Safety badge will be expected to know what to look for in a correctly fitting riding hat and body protector, and what the various safety standard labels denote. They will also learn about the advantages of shopping for new hats and body protectors with BETA-trained professional retailers.
The saddlery element of the badge tests young riders' ability to decide when their tack needs repairing and how to choose the correct size of stirrup iron. The syllabus does not include the fitting of saddles or other tack. Cleaning, caring for and storing hats, body protectors and tack, as well as safety issues surrounding riders' footwear are also covered.
A series of BETA Equipment Safety Courses, run by the trade association, will familiarise Pony Club instructors with the new badge's requirements. For Pony Club members, meanwhile, the practical-based learning will be made fun with the inclusion of games such as 'find the faults' in hats, body protectors and tack.
"It is reassuring to have the support of BETA," said Nikki Herbert, director of training for the Pony Club. "The information BETA has provided is going to be most helpful to our instructors as they train members towards the new badge during the summer."
The Equipment Safety badge is one of more than 30 achievement awards offered by the Pony Club which has a UK membership of 45,000 across 345 branches and 530 centres.
To find a BETA-trained retailer for a personalised hat or body protector fitting, tel 01937 587062 email info@beta-uk.org or visit www.beta-uk.org
(BETA 24 April 2008)
Scotland and Northern England – UK: Warning of military low flying exercise 28 – 30 April
The British Horse Society Scotland is alerting horse riders throughout Scotland and northern England that an RAF and NATO combined exercise taking place from April the 28th to the 30th is likely to generate a considerable amount of low flying. It is recommending to horse riders that it will be extra prudent to wear hi-viz clothing over this period.
Exercise Wycombe Warrior 01-09 and the NATO Electronic Warfare Integration Programme will consist of up to 70 sorties each day with low flying restricted to 1000 to 1800 hours.
Exercise planners and participating aircrew will do what they can to ensure this essential training activity is conducted in a manner that causes minimum disruption to the public. The BHS is recommending that "horse riders for their part ought to make themselves as visible as possible from the air so that low flying craft has the best chance of steering clear."
(Original source BHS Scotland 24/04/09)
UK: The Health and Safety Executive's (HSE) job is to protect people against risks to health or safety arising out of work activities. They do this through research, information and advice, promoting training, new or revised regulations and codes of practice, inspection, investigation and enforcement.
HSE launches new strategy for a common sense approach to risk at work
Workplace deaths and injuries have fallen over the past thirty years but thousands still die every year as a result of work-related accidents and ill health.
The Health and Safety Executive (HSE) launched a new strategy, Be Part of the Solution, on 3 June designed to reduce the number of workplace accidents and take a common sense approach to ensuring that risk management is an enabler for business not a burden.
New research published at the launch demonstrates that employers and workers alike both recognise overwhelmingly that providing a safe workplace makes sound commercial sense. Nearly 90 per cent of business leaders say that people are their organisation's most important asset. In addition to preventing accidents, 65 per cent of employees say that good health and safety practices make them feel valued.
The recession could make some workplaces more dangerous, as more than a quarter of business leaders say that that their organisation will face pressure to cut spending on health and safety this year. This is not only potentially dangerous but could also be bad for business; nearly eight in ten business leaders acknowledge that good health and safety standards are beneficial. In part this is because the cost of preventing accidents is almost always less than the costs associated with an accident once it happens.
Almost half of Britain's workers know someone who has been injured at work, yet the actual rate of deaths and serious injuries is greatly underestimated. On average, employees think that 3,000 people were killed or seriously injured at work last year, but the true number is 137,000 – more than 45 times higher.
Too often health and safety is seen as trivial or the preserve of 'jobsworths', rather than preventing tragedy. A third of employees wrongly think that HSE bans wearing flip-flops at work or children playing with conkers. In fact, HSE is focused on real risks and preventing the serious harm that dangerous workplaces can cause.
The most effective way to improve health and safety practices is for senior management to show leadership on the issue. HSE is thus calling on leaders today to sign a pledge to 'Be Part of the Solution' and improve health and safety standards.
Judith Hackitt, Chair of HSE said: "HSE is not, and never will be, 'the fun police.' Our new strategy shows the way towards a common sense attitude to health and safety. As regulators, our approach to businesses will be proportionate to the risk they present and their approach to managing it. We are calling on employers and business owners to take the lead themselves in preventing the thousands of deaths every year which are caused by work – it is their moral and legal duty and it is good for the business."
Secretary of State for Work and Pensions, James Purnell said: "There are too many clichés about the role of 'health and safety' in our society. But amidst ridiculous myths about banning donkey rides and flip flops, the fact is that too many people are still needlessly killed or injured. The fact that some people go out to work and never return home to their families is a human tragedy. The new HSE strategy recognises that a significant challenge now faces everyone with a stake in health and safety. We need to do everything we can to drive down the toll of death and injury."
Brendan Barber, General Secretary of the Trades Union Congress, said: "At a time when employers are trying to cut costs, getting the message across on the importance of health and safety is more important than ever. Today's strategy is short on rhetoric, but big in vision. Unions and health and safety representatives are committed to supporting this strategy as well as the day to day work of the HSE."
Sir Steve Bullock, Chair of the Local Government Association (LGA) human resources panel, said:
"Having a healthy and safe place to work is a fundamental right of every employee. But it is not a right that everyone enjoys. We must all work together to improve Britain's safety record. We must also join together to reject the trivialisation of the health and safety agenda – we must not be distracted by silly or frivolous issues when the larger issue is about protecting workers from serious injury or death.
"As well as being a regulator alongside HSE, local government is also a major employer. We are proud to be part of the drive to make Britain a safer and healthier place to work."
Find out more about the strategy at: http://www.hse.gov.uk/strategy/
(HSE - June 2009)
Health and safety guidance to be free online
Authoritative guidance about how to protect employees from workplace dangers is to be given away free by the Health and Safety Executive (HSE).
From September 2009 around 250 priced publications that contain health and safety advice and guidance will be made freely available from HSE's website in PDF format to view and print.
The publications cover the full range of HSE's guidance as well as approved codes of practice (ACOPs) and guidance on regulations.
HSE said it was making the information available to help employers better understand their legal duties and what health and safety precautions they need to take, and to help safety representatives in maintaining and improving health and safety in the workplace.
Those that wish to will still have the option to buy professionally produced printed versions from HSE Books.
Although the publications will be made freely available online, Crown copyright will still apply and organisations wishing to reproduce the information will still need an appropriate license from the Office of Public Sector Information (OPSI).
(Source HSE – June 2009)
HSE Myth of the month – January 2009
Myth: If you call HSE for help, you'll end up with an unwanted inspection
The reality
HSE's Infoline is confidential and run for HSE by a contractor. Your individual information is not passed to HSE so it won't result in a visit. The trained operators answer the great majority of calls themselves. If they can't deal with your query fully they will ask you if it is alright to refer it to an expert in HSE.
So, if you've got a query or a concern, just ask. You've got nothing to lose and it could help your business!
HSE Myth of the month – February 2009
Myth: Pancake races are banned!
The reality
Health and safety requirements were given as the reason that a pancake race couldn't take place last year.
A straightforward event like this one only needs a short, simple risk assessment. And when an event has taken place lots of times before, all that's needed is a review of the previous assessment - just to check nothing has changed - so that the fun can go ahead!
Managing risk is about practical steps to protect people from real harm and suffering - not bureaucratic back covering.
HSE Myth of the month – March 2009
Myth: Health and safety rules take the adventure out of playgrounds
The reality
We're all for playgrounds being exciting and challenging places. Children should have fun in them, get fit, develop social skills and learn how to handle risks.
What's important is to strike the right balance - protecting children from harm while allowing them the freedom to develop independence and risk awareness. Exciting and challenging playgrounds do this, poorly maintained or badly designed ones don't.
Health and safety laws don't stop children having fun but ill-considered and overprotective actions do.
HSE Myth of the month – April 2009
Myth: People don't have to take any responsibility for their own health and safety
The reality
Employers have a duty to protect workers and the public from dangers caused by their work - and HSE is committed to making sure they do that. But health and safety isn't entirely someone else's responsibility.
We all have a duty to keep ourselves safe, by co-operating with safety measures and not putting ourselves or others in danger. This is just common sense - something we all use every day.
It's important that we aren't put at risk by other people's actions, but if we ignore our own responsibilities, real risks can get missed. Playing the blame game doesn't keep people safe - better to rely on common sense and co-operation.
HSE Myth of the month – May 2009
Myth: Ice cream toppings have been banned for health and safety reasons
The reality
We were recently surprised to hear that ice cream toppings had been banned amid health and safety fears.
This rumour came from an ice cream parlour giving out extra toppings in separate containers, instead of pouring them over the ice cream. They were concerned that people might slip on any spills.
It's important to prevent slips - they remain the most common cause of major injuries.
But in this case simply clearing up any spills as they occurred would have stopped people slipping and helped the company continue to make great ice cream taste even better!
Go to the HSE's Myth of the month homepage
Get free leaflets from the HSE - Clear and simple advice on a range of health and safety issues
Go to the HSE's homepage
UK: The "Safety with Horses" course just got better...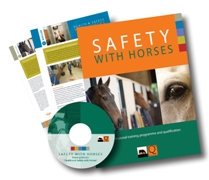 The award-winning "Safety with Horses" course is acknowledged for setting the standard of safety training across the horse industry. But the course which can be completed at home and your own stables just got better...
If you join during the current campaign, not only do you stand to make your yard a safer place for people and horses while achieving a nationally accredited award, but you'll also receive a free ticket to a top equestrian event, meeting one of our top riders.
By successfully completing the Equi Study "Safety with Horses" home/stable study course and you will receive a free ticket to one of four top equestrian events including Olympia, Badminton, Burghley and Horse of the Year Show. You'll also have the opportunity to meet a leading rider, learn about top level competition and ask questions about show jumping or eventing.
There are seven start dates during the year so you can choose both your favourite event and the best time to complete your course.
Anyone who is 16 years and over who has access to horses and equine facilities can take part. You'll also need a competent person (Level 3 – e.g. AI)) who can observe you undertaking some basic but key practical activities with horses. Everyone will be able to access their own Equi Study Tutor to help them complete their course. Click here for more information on the "Safety with Horses" campaign.
Find out what the Health and Safety Executive say about the course
Riding Safely thoroughly recommends this course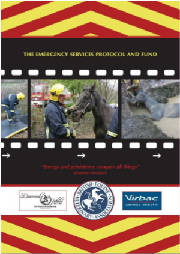 The Emergency Services Protocol
Guidelines to help the emergency services cope better with equine incidents were launched in May 2007.
The guidelines aim to ensure that any horse involved in an accident receives proper care as quickly as possible. They cover everything from how a 999 call should be dealt with to advice on identifying horses and coping with a large animal in an incident.
An Emergency Services Protocol Fund has also been set up by the BHS and BEVA, to help minimise delays for injured horses receiving veterinary care when their owners cannot be traced. The fund will also pay for rescue training and specialist lifting and rescue equipment for the emergency services.
To donate to the fund, contact BEVA (tel: 01638 723555).
Read more from Horse & Hound Online
Download the Emergency Services Protocol leaflet.
Horse owners could benefit from cheaper insurance premiums under plans to clarify owners' liability announced by Farming Minister Jane Kennedy on 27 March 2009.
The proposals, published by Defra for consultation, would amend the Animals Act 1971 to clarify owners' liability should their animals cause damage. The law in its current form lacks clarity and means that animal keepers face the prospect of being held strictly liable for damage or injury regardless of any actions they may have taken to prevent an incident from occurring.
Ms Kennedy said: "We aim to give animal owners peace of mind when giving their horses or other animals the space and the exercise they require. This small amendment means that, if they've taken reasonable precautions and their animal causes damage, the owner will no longer be held strictly liable. This is great news for all animal keepers, especially as it could even lead to lower insurance premiums - something which I know would be very welcome to many rural businesses."
The amendment would mean that all animal owners or keepers must continue to take reasonable precautions to prevent accidents occurring, and they would remain liable for any negligence on their part, but it would introduce new and clearer criteria for the application of strict, no fault, liability in cases where the accidents could not have been predicted.
Welcoming the Government's consultation paper Graham Cory, British Horse Society, Chief Executive said: "The Society has been campaigning for years for an amendment to the provisions of the Animals Act 1971, so that a horse owner would not be held liable for their horse's behaviour when they had done everything reasonably possible to prevent an accident." In 2003 the BHS took the initiative and argued to Defra that the law was in urgent need of amendment, but ministers were not persuaded of the need for urgent action. At the time of the BHS's approach to ministers, Graham Cory was the Defra senior civil servant advising ministers on equine matters. He is convinced that the lack of support from other sectors of the industry suggested that the BHS was a lone voice. The BHS subsequently supported Laurence Robertson MP's Ten Minute Rule Bill to amend the Act. When that proved unsuccessful, the BHS welcomed the CLA and NFU into the fray, working together to support Stephen Crabb MP's Private Member's Bill. Although that Bill, too, was unsuccessful, Defra accepted the argument that the Act needed amending. The BHS has assured Defra that it will work with Government to ensure that the appropriate reforms can be implemented successfully.
The Defra "Consultation on changes to the Animals Act 1971 to clarify the application of strict liability to the keepers of animals" runs until 19 June 2009 and comments are invited from all interested parties, and not just from those to whom the consultation document has been sent.
Background
1. The Animals Act 1971 covers owners' liability for damage done by animals, and section 2(2) deals with the application of strict liability to the owners of animals that cause damage in certain situations.
2. Strict liability is liability without fault, which means the keeper of the animal is liable for any damage caused regardless of any actions taken to limit the likelihood of it occurring.
3. The precise meaning of section 2(2(b) of the Act, which refers to strict liability applying where the characteristics that caused the damage are not normally found in animals of the species or not normally found except "at particular times or in particular circumstances", has been the subject of debate and disagreement since the Act came into force. This uncertainty was heightened by the House of Lords' judgement in Mirvahedy v Henley [2003], concerning injury caused by spooked horses, which effectively extended the range of circumstances where strict liability could apply.
4. Insurance premiums for many land-based and equestrian businesses rose significantly in the period following the Mirvahedy judgment in 2003 - it is estimated that public liability premiums for commercial riding establishments rose by 79% in 2003, 39% in 2004 and 34% in 2005. While evidence of a direct link between the Mirvahedy judgment and the premium increases is difficult to find, the Government believes that a clarification of the law could lead to reduced premiums, although this is a matter for insurance companies.
(Defra/BHS/Riding Safely - 27 March 2009)
Get more from Riding Safely
Check out the latest local, national and international weather forecasts from the Met Office »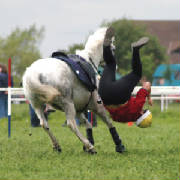 In what is believed to be the first of its kind, an internet-based survey has been launched to measure the extent and consequences of horse-related injury across the USA, Britain and Australia. The survey was developed by Dr Patricia Evans at Utah State University, and has been adapted for wider international use with help from Ken Law, editor of the UK-based website Riding Safely and Denzil O'Brien, who has recently completed a 5-year surveillance program on risks in eventing. It is being co-hosted by the Equestrian Federation of Australia.
The survey is aimed at anyone who has suffered a horse-related injury and asks questions across a broad range of equestrian activities and disciplines. Some questions have a distinct USA or UK focus and should be answered accordingly. The survey should only take a few minutes to complete. "This is possibly the first time that such a survey has been undertaken across such a wide range of potential respondents, and we believe that it will provide valuable information on the extent and cost of horse-related injury in our sector." said Denzil O'Brien. "We are hoping to obtain richer information than that previously gained through hospitals."
The survey and data analysis are being undertaken through Utah State University. Under US law it can only be completed by people aged 18 or over. Anyone taking part will not be asked for identifying information - data gathered will be used statistically not descriptively.
"We've had such surveys in the past but these have normally been limited to individual countries" said Ken Law "running the survey simultaneously across three countries and gaining comparable data may prove of enormous benefit in improving safety internationally – I urge everyone to take part".
Click here to take part in the survey that runs until 28 February 2009.
Ü
UK: The Barefoot Trimmers National Occupational Standards Consultation
Lantra, the Sector Skills Council for the environmental and land-based industries, is holding an initial consultation meeting on Wednesday 4 February 2009 regarding the development of National Occupational Standards (NOS) for Equine Barefoot Trimming.
Currently there are no National Occupational Standards for this area of work and their development was a key recommendation from Lantra's Paraprofessionals research report: titled 'An investigative study of Barefoot Trimmers and Equine Dental Technicians'.
Lantra's industry partnership manager for the equine industry and Professions Allied to Veterinary Science, Lisa Jarvis said: "National Occupational Standards describe the skills, knowledge and understanding needed to do a particular task or job. One of the uses for these standards is using them as building blocks for qualifications, so ensuring that these are right and meet businesses' needs are vital to the industry's future and equine welfare." Lisa adds: "If you want to play a part in developing these standards, then join Lantra on Wednesday 4 February, at an initial consultation meeting. The purpose of the meeting is to establish industry requirements for National Occupational Standards to ensure that they are fit for purpose."
If you would like to participate in the initial NOS development meeting, please contact Lantra on 0845 707 8007 or email connect@lantra.co.uk
Ü UK: (DEFRA) Consultation launched on changes to horse identification legislation
Defra has launched a consultation to revise the existing equine identification legislation. The consultation period runs from 10th November 2008 to 10 February 2009.
The main requirement for the new Horse Identification legislation is the compulsory microchipping of foals born after 1 July 2009. This requirement will not be retrospective for older horses.
Under the current legislation, all equidae are required to have identification. The new regulation aims to improve this current method of identification by linking each ID issued to an electronic microchip implanted into the animal. Linking the microchip and ID, which are both recorded as a unique life number on a national database, will reduce risks to human health by stopping certain animals entering the food chain, help disease surveillance, and aid recovery of lost or stolen horses.
The purpose of the consultation is to seek views on draft Regulations intended to apply Commission Regulation (EC) No 504/2008 in England. The consultation document is confined to the application of a number of derogations provided for in the Regulation, along with new offences created and penalties for non compliance.
The consultation can be found at http://www.defra.gov.uk/corporate/consult/equine-id/index.htm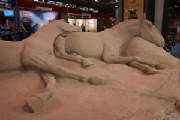 Click to see more pictures
BETA International, which celebrates its 30th anniversary in 2009, is the world's foremost equestrian and country trade exhibition. Admission is strictly trade only.
Researchers from BBC2's Dragons' Den show will be attending the trade exhibition seeking potential equestrian entrepreneurs with ingenious products and market-ready business plans.
Dragons' Den has previously attended BETA International. But for the first time this year, the production team plans to conduct on-camera auditions with filming taking place during the exhibition.
Pictured above is the sand sculpture completed by Andrew Baynes; the result of three days performance art that took centre stage at last year's show.
Ü
UK: Find out how apprenticeships can benefit your business with LANTRA - 23 to 27 February 2009
Lantra is pleased to host a number of free events in support of Apprenticeship Week in England (23 - 27 February 2009) to raise awareness of apprenticeships in the environmental and land-based industries and highlight how they can benefit your business.
These inspiring and interactive events will include a range of informative presentations from apprentices, training providers and employers currently engaged in a range of exciting apprenticeship programmes.
National Director for England, Madge Moore, said: "Apprenticeships have a central role to play helping firms maintain and improve business productivity during the economic downturn and these events will give businesses the opportunity to find out how."
Come and join us at one of the following events:
Monday 23 February, 10.30am - 2.00pm, Myerscough College - includes free entrance to the golf simulator
Tuesday 24 February, 6.00pm - 9.00pm, Corporate Training Centre at Elm Bank, Coventry - includes a floristry masterclass
Wednesday 25 February, 12.30pm, Wolverhampton Racecourse - includes free entrance into the races
Thursday 26 February, 10.30am - 2.00pm, British Racing School, Newmarket - includes access to a training provider marketplace
Friday 27 February, 10.30am - 2.00pm, Duchy College, Cornwall.
For more information or to book your place visit www.lantra.co.uk/apprenticeships
email events@lantra.co.uk or call 0845 707 8007.
Deadline for registrations is Wednesday 18th February 2009.
Ü
Ireland:
Cross-country course design seminar - 8 March 2009
The Association of Irish Riding Clubs in conjunction with Eventing Ireland and the Equestrian Skillnet are holding a seminar on cross-country course design.
It will take place at Gurteen College, Co. Tipperary on Sunday 8th March 2009, running from 10.30 to 15.30 and costs €20.
This seminar will give participants an insight into designing and creating cross-country courses and fences to allow horses and riders to train and compete to a high standard.
It will also facilitate riders moving up the levels and give them the skills to competently negotiate the challenges that lie before across country.
A strong emphasis will be placed on safety and issues concerning the safety of designing fences.
The sessions will be led by Tony Ennis (A.I.R.C.) & John Swanton (Eventing Ireland).
Tony Ennis, chairman of A.I.R.C., has designed the cross-country course at Gurteen College and it has since been modified by Ian Stark (British Olympic Eventer).
John Swanton, former chairman of Eventing Ireland, has stewarded at many international horse trials in Ireland. John has assisted with the design and building of some courses including his own at Ashmount.
To book a place, contact Cathy Cooper on 045 - 854 514 or email ccooper@horsesportireland.ie
This event is subsidised by the Equestrian Skillnet
Ü UK: National Equine Forum - 31 March 2009
The National Equine Forum is a high profile annual event that is held at the Royal Society in London. The audience includes invited leaders of the various disciplines and interests in the horse world, and is normally attended by Her Royal Highness the Princess Royal and the Minister for the Horse Industry. There are a small number of tickets available on a first come first served basis for paying guests at a cost of £100 for the day's event, including a buffet lunch. The Forum provides an outstanding opportunity for networking with the leaders of the horse industry, and represents exceptional value for money for those wishing to engage in continuing professional development.
The 2009 Forum will be held from 0930 to 1600 on Tuesday 31 March. It is a not-for-profit event that investigates topics of current interest and concern in a non-partisan and non-commercial fashion, with plenty of time for questions. Topics selected are always relevant and frequently controversial. Expressions of support in debate at the Forum can often lead to initiatives going forward, as for example with the formation of the British Grooms Association.
The 2009 Forum will include the following topics:
· Feed, including papers on the impact of biofuels and world food demand, the advantages and disadvantages of additives, and the risks of accidental doping from cross-contamination
· Whether the equestrian world is hobby, sport, recreation or industry
· Progress in setting up the British Grooms Association
· The implications of recent Government policies on developments in work based learning
· A coordinated presentation by the Worshipful Companies of Saddlers, Loriners and Farriers
· Olympic and Paralympic Games, looking back to performances in 2008, and forward to the selection of locations in 2012
· Undergraduate thesis of the year
· Topical spot, this year looking at vaccines and the BEVA laminitis study
If you would like to apply for a ticket, please contact the Hon Secretary, Mrs Tracy Lepkowska, at Warwickshire College, Moreton Morrell, Warwick, CV35 9BL email TLEPKOWSKA@WARKSCOL.AC.UK
Ü

"In sicknes and in health"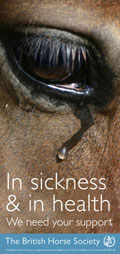 The 'In sickness and in health' fundraising campaign is designed to support the BHS's work of preventing the suffering of thousands of horses and ponies, which it does by providing expert advice across a broad range of equine topics.
Ü
Breaking the Strangles hold
In February 2007, the Animal Health Trust (AHT) and British Horse Society (BHS) launched a nationwide Strangles Campaign, which has two aims. The first is to raise awareness of this dreadful equine plague, and the second is to gain support for the research programme.
For this, the target is to raise £250,000 to fund research into the next stages of the development of improved means of diagnosis and prevention – ultimately to eradicate this terrible disease.
The campaign was launched by the President of the AHT, HRH The Princess Royal, at the Royal Society of Medicine in London. It continues to make great progress, with the total raised so far standing at £159,000.
For more information about Strangles and the campaign visit www.strangles.org
Riding Hats/Helmets
Ü

Riding hats and helmets are just different terms used to describe the same thing - protective headwear.