PUBLICATIONS
UK: 2008 British Equestrian Directory released
With its listing of 21,000 equestrian specialists and businesses in more than 250 categories, the 2008 British Equestrian Directory (BED) is now available. Each entry comes complete with telephone number, website and email addresses for instant access to everything equestrian from riding schools to tackshops, equine dentists to livery yards. The BED is packed with information it's impossible to find elsewhere, even on the internet. New for 2008 are animal sitters, allergy control specialists, clipping services, equestrian estate agents, hay and haylage suppliers, horse walker manufacturers, freeze marking services, recruitment agencies and event horse breeders. The updated BED also contains revised listings of equine therapists including those specialising in acupuncture, aromatherapy, hydrotherapy and herbal remedies; while firm favourites range from side-saddle and dressage trainers to rosette suppliers, cross country courses for hire and fencing contractors. Whatever your equestrian interest, the BED can help you track down that elusive contact. Western retailers, nutritionists, magazines, shipping agents and bridleway groups are featured, along with farriers, Icelandic horse breeders and animal behaviourists. The BED is priced at just £16 postage free in the UK.
To obtain a copy telephone 01937 582111 or email clairm@beta-int.com
Check out the latest local, national and international weather forecasts from the Met Office »
Consultations, Reviews, Research & Surveys
Ü UK: From 10 June - Police horses in the television spotlight »
A major new documentary series will give people an exclusive look behind the scenes of Greater Manchester Police Mounted Unit. The 13-part series will show what it takes to keep officers in the saddle and patrolling the streets of Greater Manchester. After 18 months of filming, 'Mounted Branch' will be screened exclusively on Animal Planet channel (Sky 525) from June 10.
Ü
UK: 21 September - Animal Health Trust Gala Open Day
The AHT are once again opening the gates to their home, Lanwades Park, Kentford, Newmarket, Suffolk to the public for what is promised a day of fun with something for everyone. There will be displays from Tricky Tykes Terrier Racing Team, Southern Golden Retriever Display Team and the Rockwood Dog Display Team, as well as a charity dog walk through the Trust grounds and Heath, and stands full of arts, crafts, bits and bobs. Read more »
More about the Animal Health Trust »
Ü
UK: Association of British Riding Schools (ABRS) AGM & Annual Conference
Monday 13 October 2008 at the Bedford Lodge Hotel, Bury Road, Newmarket, Suffolk.
Ü

"In sicknes and in health"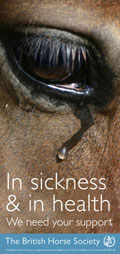 The 'In sickness and in health' fundraising campaign is designed to support the BHS's work of preventing the suffering of thousands of horses and ponies, which it does by providing expert advice across a broad range of equine topics.
Ü
Breaking the Strangles hold
In February 2007, the Animal Health Trust (AHT) and British Horse Society (BHS) launched a nationwide Strangles Campaign, which has two aims. The first is to raise awareness of this dreadful equine plague, and the second is to gain support for the research programme.
For this, the target is to raise £250,000 to fund research into the next stages of the development of improved means of diagnosis and prevention – ultimately to eradicate this terrible disease.
The campaign was launched by the President of the AHT, HRH The Princess Royal, at the Royal Society of Medicine in London. It continues to make great progress, with the total raised so far standing at £159,000.
For more information about Strangles and the campaign visit www.strangles.org